Kraken
2023-08-27
Snargl
2 minutes 34 seconds
What is a Kraken?
A kraken is a legendary sea monster of enormous size that is said to appear in the sea between Norway and Iceland.
It is often depicted as a giant squid or octopus, with many tentacles and a fearsome appetite.
Some sailors believed that the kraken could drag down whole ships into the depths of the ocean.
The kraken has been featured in many stories, myths, and works of fiction, such as the original Final Fantasy game and the Pirates of the Caribbean movies.

Deep in the dark and silent sea
There lurks a creature of mystery
With eyes like fire and arms like steel
It waits for prey to make its meal

The sailors fear its mighty name
The kraken is its dreadful claim
No ship can match its fearsome might
It strikes with speed and savage bite

Some say it's just a fairy tale
A legend from the ancient sail
But others swear they've seen its form
A shadow in the raging storm

Who knows the truth about this beast
Is it real or is it ceased?
Perhaps one day we'll find it out
When the kraken comes about.
NCS (Natural Color System)
NCS S 8005-Y20R
NCS S 4010-B50G
NCS S 6010-Y70R
NCS S 3020-Y30R
NCS S 8505-R20B
PANTONE
PANTONE Black 4
PANTONE 5555
PANTONE 7518
PANTONE 2313
PANTONE 419
RAL Classic
RAL 3007
RAL 7023
RAL 8007
RAL 3012
RAL 9005
RAL Design
RAL 080 20 10
RAL 140 50 05
RAL 030 30 20
RAL 060 60 30
RAL 170 20 25
RAL Effect
RAL 790-5
RAL 770-6
RAL 340-4
RAL 310-4
RAL 790-5
What does a Kraken look like?
A kraken is a creature of the deep
That makes the sailors lose their sleep
It has a body like a squid
But much, much bigger than a kid

It has eight arms with suckers strong
That can drag a ship along
It also has a pair of eyes
That can see through the murky skies

Some say it has a cape and crown
And that it likes to pull ships down
Some say it's just a giant fish
That makes a very tasty dish

But no one knows for sure, you see
The kraken is a mystery
So if you want to find it out
You'll have to sail and look about

But be careful, don't get too near
Or you might end up in its rear
The kraken is not very nice
It likes to play with human dice.
NCS (Natural Color System)
NCS S 8005-B80G
NCS S 1510-R90B
NCS S 6020-B10G
NCS S 4010-B30G
NCS S 3010-B70G
PANTONE
PANTONE 7547
PANTONE 5305
PANTONE 553
PANTONE 424
PANTONE 7543
RAL Classic
RAL 8022
RAL 7035
RAL 6028
RAL 9023
RAL 7001
RAL Design
RAL 160 20 20
RAL 300 80 05
RAL 180 30 15
RAL 180 50 05
RAL 180 70 10
RAL Effect
RAL 790-5
RAL 820-1
RAL 710-6
RAL 860-5
RAL 180-M
Continue browsing posts in category "Water"
PREVIOUS POST
Leviathan
NEXT POST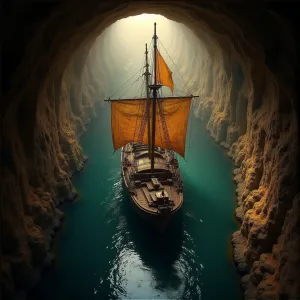 Flying Dutchman
You may find these posts interesting: