Demon Hunter
2023-08-06
Snargl
1 minute 28 seconds
Who is a Demon Hunter?
A demon hunter is a person who fights
Against the fiends of the night
They use their skills and weapons to slay
The creatures that cause dismay

Some demon hunters are born with a gift
That lets them sense the demonic rift
Others are trained by a master or a guild
To learn the secrets of the dark and the wild

Some demon hunters have a personal vendetta
Against the demons that made their life bitter
Others are driven by a noble cause
To protect the world from the evil claws

Some demon hunters work alone or in pairs
They roam the lands and face the scares
Others are part of a larger group or faction
They cooperate and plan their action

Some demon hunters are heroes or legends
They are admired and praised by their friends
Others are outcasts or renegades
They are feared and shunned by their mates

Some demon hunters use magic or technology
To enhance their power and ability
Others rely on their strength or agility
To overcome their enemy

Some demon hunters hunt for glory or fame
They want to be known by their name
Others hunt for money or reward
They want to be paid for their sword

Some demon hunters are good or neutral
They follow a code or a moral
Others are evil or chaotic
They have no scruples or ethic

A demon hunter is a person who fights
Against the fiends of the night
But not all demon hunters are the same
They have different motives and aims.
NCS (Natural Color System)
NCS S 9000-N
NCS S 2030-G30Y
NCS S 4010-G50Y
NCS S 1002-G50Y
NCS S 2020-G30Y
PANTONE
PANTONE 419
PANTONE 2269
PANTONE 416
PANTONE 705
PANTONE 2404
RAL Classic
RAL 9005
RAL 7034
RAL 7003
RAL 9010
RAL 7032
RAL Design
RAL 170 20 20
RAL 120 70 40
RAL 090 50 10
RAL 010 92 05
RAL 110 70 10
RAL Effect
RAL 790-5
RAL 240-2
RAL 770-3
RAL 150-2
RAL 130-M
Continue browsing posts in category "Crafts"
PREVIOUS POST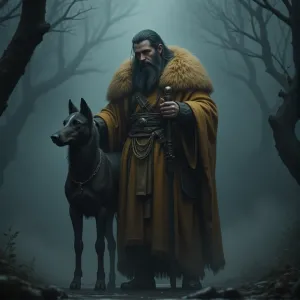 Hermit
You may find these posts interesting: