La Llorona
2023-08-06
Snargl
1 minute 34 seconds
Who is a La Llorona?
La Llorona is a legendary figure in Latin American folklore.
She is said to be the ghost of a woman who drowned her children in a river out of jealousy and grief, and now wanders the earth looking for them.
She is often depicted as wearing a white dress and crying out for her lost children.

She walks along the riverbank
With tears that never dry
She searches for her little ones
But only hears their cry

She was once a loving mother
But her husband was untrue
He left her for another
And broke her heart in two

She could not bear the pain and shame
She lost her mind and soul
She took her children to the water
And let the current take control

She realized too late her sin
She tried to save them but in vain
She drowned herself in the same river
But could not join them in the plain

Now she is doomed to roam the earth
A restless spirit in despair
She scares the living with her wails
But no one can answer her prayer

She is the weeping woman
The one they call La Llorona
She is a tragic tale of love and loss
A warning and a curse.
NCS (Natural Color System)
NCS S 7502-B
NCS S 9000-N
NCS S 7005-R80B
NCS S 7020-Y80R
NCS S 3040-Y90R
PANTONE
PANTONE 5463
PANTONE 419
PANTONE 432
PANTONE 2322
PANTONE 7524
RAL Classic
RAL 6009
RAL 9005
RAL 7026
RAL 3007
RAL 3033
RAL Design
RAL 180 20 15
RAL 170 20 20
RAL 200 30 05
RAL 080 20 10
RAL 010 40 45
RAL Effect
RAL 790-5
RAL 790-5
RAL 750-6
RAL 790-5
RAL 460-M
Continue browsing posts in category "Demons"
PREVIOUS POST
Ghost
NEXT POST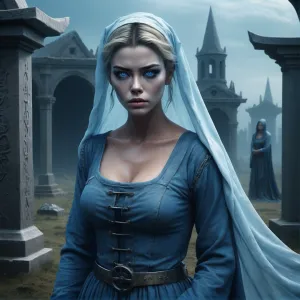 Bean-Nighe
You may find these posts interesting: