Ghoul
2023-09-07
Snargl
2 minutes 33 seconds
Who is a Ghoul?
A ghoul is a mythical creature that originates from the pre-Islamic Arabian religion and folklore.
It is a shapeshifting demon that lives in deserts, cemeteries, and other uninhabited places.
It feeds on human flesh, especially the dead, and can take the form of the person it has eaten.
It also preys on travelers, children, and coins.

Ghouls have different interpretations in different cultures and media.
In Islam, ghouls are considered to be a type of jinn or devil that are burned and banished from heaven.
They are also associated with sorcery and deception.

In European folklore, ghouls are often seen as undead cannibals that have brought the curse upon themselves by eating human flesh.
They are very strong, but not very smart, and can be scared away by church bells.
In modern fiction, ghouls are sometimes portrayed as zombies, vampires, or ghosts that haunt graveyards and feed on corpses.
Ghouls are fascinating creatures that have inspired many stories and legends.
NCS (Natural Color System)
NCS S 9000-N
NCS S 4030-R20B
NCS S 4055-B
NCS S 1050-B30G
NCS S 1050-R40B
PANTONE
PANTONE 419
PANTONE 689
PANTONE 568
PANTONE 311
PANTONE 232
RAL Classic
RAL 9005
RAL 4008
RAL 6016
RAL 6027
RAL 4003
RAL Design
RAL 170 20 20
RAL 350 40 30
RAL 170 40 40
RAL 210 70 35
RAL 340 60 40
RAL Effect
RAL 790-5
RAL 550-6
RAL 740-6
RAL 690-1
RAL 520-4
What does a Ghoul look like?
A ghoul is a fantasy creature that is often associated with graveyards and the consumption of human flesh.
A ghoul looks like an emaciated, roughly humanoid creature with a mottled, decaying skin stretched tight over its bones.
It has sharp teeth, sunken eyes, and filthy claws.
Some ghouls can also shapeshift into animals or take the form of the people they have eaten.
There are also different types of ghouls, such as aquatic ghouls, plaguechanged ghouls, and abyssal ghouls, that have their own distinctive features.

A funny joke to go along with this answer: Q: What do you call a ghoul who likes to eat brains? A: A no-brainer!
NCS (Natural Color System)
NCS S 8005-B80G
NCS S 5030-R20B
NCS S 1040-Y50R
NCS S 3020-Y60R
NCS S 4010-R90B
PANTONE
PANTONE 7547
PANTONE 7643
PANTONE 1365
PANTONE 2317
PANTONE 2361
RAL Classic
RAL 8022
RAL 8015
RAL 1034
RAL 1011
RAL 5014
RAL Design
RAL 160 20 20
RAL 020 30 20
RAL 060 70 50
RAL 050 60 30
RAL 270 50 10
RAL Effect
RAL 790-5
RAL 530-5
RAL 410-1
RAL 310-M
RAL 610-2
Continue browsing posts in category "Demons"
PREVIOUS POST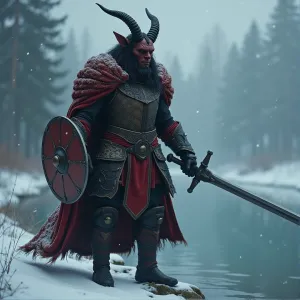 Satyr
NEXT POST
Poltergeist
You may find these posts interesting: