Boggart
2023-08-06
Snargl
1 minute 20 seconds
Who is a Boggart?
A boggart is a creature of fear
That changes its shape to what you most fear
It hides in the dark, in closets or caves
And rattles and shakes to make you afraid

But boggarts are not so tough as they seem
They can be defeated by laughter and dreams
The spell that you need is 'Riddikulus'
And then you can turn them into something ridiculous

Like a spider with roller skates or a snake with a bow
Or a clown with a tutu or a dragon with a fro
The sillier the better, the more you can laugh
The sooner the boggart will turn into dust

So don't be afraid of the boggart, my friend
It's only a trickster that wants to pretend
You have the power to make it go away
Just think of something funny and say 'Riddikulus' today!
NCS (Natural Color System)
NCS S 8010-Y10R
NCS S 6020-Y50R
NCS S 4010-Y30R
NCS S 1050-Y20R
NCS S 0580-Y60R
PANTONE
PANTONE 419
PANTONE 7531
PANTONE 1495
PANTONE 7579
RAL Classic
RAL 8022
RAL 8011
RAL 6013
RAL 1034
RAL 2004
RAL Design
RAL 000 15 00
RAL 060 30 27
RAL 080 50 20
RAL 060 70 70
RAL 050 50 78
RAL Effect
RAL 790-5
RAL 330-4
RAL 770-3
RAL 370-2
RAL 390-3
Continue browsing posts in category "Demons"
PREVIOUS POST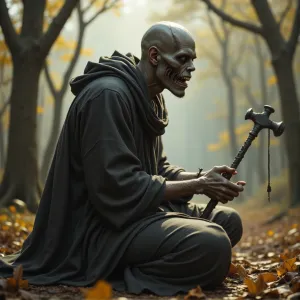 Zombie
You may find these posts interesting: