Kobold
2023-08-06
Snargl
2 minutes 35 seconds
Who is a Kobold?
A kobold is a creature of fantasy
That comes in many shapes and forms
Some are like goblins, small and hairy
Others are like dragons, with scales and horns

Some kobolds live in houses, helping humans out
But they can be mischievous, if they are ignored or spurned
They may hide your keys, or spoil your food, or make a lot of clout
So treat them well, and they will be loyal, or else you may be burned

Some kobolds dwell in mines, digging for precious ore
But they are not friendly, to those who trespass their domain
They may set traps, or ambush you, or start a bloody war
So beware of them, and their cunning ways, or you may end up slain

Some kobolds sail on ships, aiding sailors on their quest
But they are not always seen, unless there is a storm or strife
They may fix the leaks, or steer the helm, or calm the waves at best
So respect them, and their nautical skills, or they may save your life.
NCS (Natural Color System)
NCS S 8010-Y30R
NCS S 2030-Y60R
NCS S 6020-B50G
NCS S 0560-Y
NCS S 4040-Y80R
PANTONE
PANTONE 419
PANTONE 486
PANTONE 2189
PANTONE 3945
PANTONE 492
RAL Classic
RAL 8022
RAL 3012
RAL 6026
RAL 1018
RAL 8004
RAL Design
RAL 000 15 00
RAL 040 70 40
RAL 190 30 30
RAL 080 80 70
RAL 040 40 40
RAL Effect
RAL 790-5
RAL 420-3
RAL 740-6
RAL 270-2
RAL 330-2
What does a Kobold look like?
A kobold is a fantasy creature that has different appearances depending on the source.
In general, they are small, humanoid beings that are either related to dogs or dragons.
Some common features of kobolds are:
They have fur or scales, usually in brown, red, or black colors.
They have long tails, often with a tuft of hair or a spade at the end.
They have pointed ears, snouts, and teeth, giving them a feral look.
They have claws on their hands and feet, and sometimes horns on their heads.
They wear simple clothing, often made of leather or metal.
Kobolds are often depicted as cunning, sneaky, and cowardly.
They live in tribes or clans, and worship powerful beings such as dragons or titans.
They are skilled at mining, crafting, and setting traps.
They are usually hostile to other races, especially humans and elves.
Some examples of kobolds in fantasy media are:
- The kobolds from Dungeons & Dragons, who are reptilian humanoids that serve dragons and worship the primal Titan.
- The kobolds from World of Warcraft, who are furry humanoids that mine for gold and say \"You no take candle!\".
- The kobolds from Pathfinder, who are scaly humanoids that can have different colors and abilities depending on their dragon ancestry.
- The kobolds from The Elder Scrolls, who are also known as Rieklings and are furry humanoids that live in the frozen island of Solstheim.
NCS (Natural Color System)
NCS S 8005-B80G
NCS S 0580-Y60R
NCS S 0510-R70B
NCS S 2010-G20Y
NCS S 4010-R90B
PANTONE
PANTONE 7547
PANTONE 2028
PANTONE 656
PANTONE 623
PANTONE 2361
RAL Classic
RAL 8022
RAL 2004
RAL 9016
RAL 7038
RAL 5014
RAL Design
RAL 160 20 20
RAL 050 50 78
RAL 340 92 05
RAL 160 70 05
RAL 270 50 10
RAL Effect
RAL 790-5
RAL 390-5
RAL 120-2
RAL 760-3
RAL 610-2
Continue browsing posts in category "Dark"
PREVIOUS POST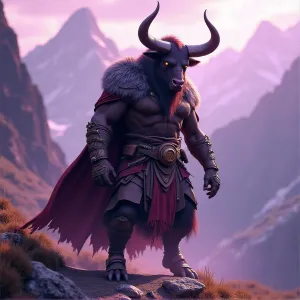 Minotaur
You may find these posts interesting: